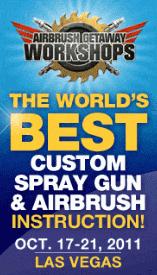 Workshop Said To Be "All Killer, No Filler"
Interest in learning how to airbrush has reached a fever pitch, thanks to TV hits like Pimp My Ride, Sunset Tan, American Chopper, Trick My Truck, the new Car Warriors, and others. And there may be no better way to learn than at Airbrush Action magazine's Airbrush Getaway Workshops. Celebrating their 23rd anniversary, the workshops will be staged this year at the Rio Suite Hotel, Las Vegas, Monday, October 17th, through Friday, October 21st.
All of the one-day introductory courses will take place Monday to prepare for the following four-day hands-on seminars: Ultimate Airbrush Effects and Techniques, Airbrush Mastery, Achieving Photorealism, Automotive Graphics, Automotive Murals on Steel, Airbrush Tanning, Makeup, and Body Art, Power Portraits, Wildlife Art, Pinstriping Mastery, Power Skulls, and T-Shirt Airbrushing for Fun & Profit. The courses will be conducted by some of the world's top talent, including Terry Hill, Dru Blair, Jerry Ott, Javier Soto, Ryno (of Speed Channel's Car Warriors), and other well-known artists.
Sponsored by Auto-Air Colors, SEM, Iwata Airbrush Company, Artool, and Anest Iwata, the Airbrush Getaway Workshops launch careers by teaching how to profit handsomely in art despite self-perceived artistic limitations.
A comment echoed by many Getaway alumni is that more is learned in four days at an Airbrush Getaway than in four years in college. Joe Stanford, of Grass Lake, Michigan, thought he had finally reached airbrush nirvana. "One day you see a celebrity artist in Airbrush Action magazine, and the next day he's looking over your shoulder helping you. That's priceless. A lot of people might be leery of attending a Getaway because they don't know anyone, but it's like you're a part of this huge family as soon as you walk in. There are no cliques or egos. I loved the Murals class. Where else can you find all this amazing talent under one roof?"
According to Joanne Mock, Carlsbad, California, "Ryno's Automotive Graphics is very hip to everything contemporary and new, and he was excellent at showing you all the nuts and bolts. This is a great course."
A one-day introductory course is $150, a four-day course $575 ($50 is discounted if you take both). Classes include all the necessary equipment, materials, and supplies (airbrush, air source, substrates, paint, etc) at no extra cost. Group and alumni discounts also available.
Dates for upcoming workshops:
• October 17-21, 2011 – Las Vegas, NV
• February 20-24, 2012 – Las Vegas, NV
For more information call 800-232-8998 (732-223-7878 for international callers), or go to Airbrush Action.