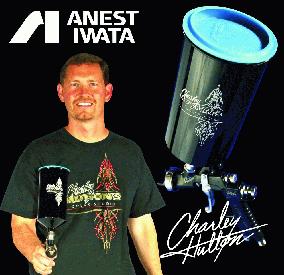 85th Anniversary / Charley Hutton Signature Gun
In recognition of ANEST IWATA's 85th anniversary, we have designed a limited edition spray gun with each gun individually numbered for authenticity. We teamed up with Charley Hutton for this gun. As one of the premier painters in North America Charley is known for his custom paintwork on high-end street rods including two prestigious Ridler Awards, several Street Rod of the Year and Custom Rod of the Year.
Check out ANEST IWATA's 85th Anniversary limited edition Charley Hutton spray gun's official release during the ASET Ultimate Air Affair Kustom painting event in Salt Lake City, Utah August 25 – 28. To find out more information about the Ultimate Air Affair Kustom painting event or to participate please contact ASET at 800-628-5449.
As always, we thank you for your loyalty and continued support of our brand and we hope you enjoy the most advanced atomization technology in the world.
ANEST IWATA USA, Inc.
www.anestiwata.com