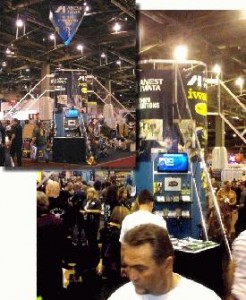 SEMA 2010
ANEST IWATA USA would like to extend regards and thanks to all who visited our exhibit during the 2010 SEMA show. This year we showed the whole picture of how ANEST IWATA, Iwata-Medea and Artool products impact the automotive market from Manufacturing to OEM Equipment to Automotive Refinish to Kustom. The whole lifespan of a vehicle is impacted by what we bring to the table. SEMA took on a whole new look with a Kustom fabricated booth that was constantly filled with loyal customers and new customers that didn't realize all the products we bring to the table.
This year's feature was our new gun SUPERNOVA LS400H Hybrid spray gun. The gun is setting the benchmark for spray guns matching HVLP compliance with Conventional speed. Iwata-Medea displayed there new Maxx-Jet mobile air compressor that makes it easier than ever to take you art on the road. Rounding out the show was Artool and their latest Radically Original templates.
We also want to everyone from all three companies for their contributions to making this happen and bringing out the industries best and brightest influences in and around our booth.
Once again, thanks to all who utilize and support ANEST IWATA, Iwata-Medea and Artool products.
ANEST IWATA USA, Inc.