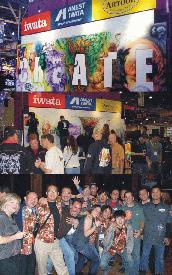 SEMA / NACE Automotive Aftermarket Industry Week 2008
ANEST IWATA USA would like to extend regards to all who visited our exhibits during the Automotive Aftermarket Industry Week 2008.
Our objective during this years Automotive Aftermarket Industry week was NACE / SEMA was to provide a better avenue to create relationships with our customers. The NACE booth was smaller and more intimate rather than an oversized monstrosity where people can get lost. The SEMA booth was set-up to inspire visitors to think about there own creativity. To see more about SEMA checkout our sister companies Iwata-Medea's blog page and A.D. Cook's website http://www.adcfa.com.
Once again, thanks to all who utilize and support ANEST IWATA products and a special thank you goes out to everyone who helped.
ANEST IWATA
technically, A BETTER PRODUCT