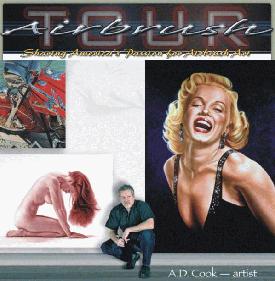 A.D. Cook
Renowned artist A.D. Cook tours the country bringing to life some of the latest and coolest Kustom painting artists to his website Airbrushtour.com.
A.D. has been airbrushing since he was a kid whether its cars, motorcycles or canvas A.D. is considered one of the best airbrush fine artists in the world.
Check out his websites Airbrushtour and his main website A.D. Cook Fine Art to see some of his incredible pieces.