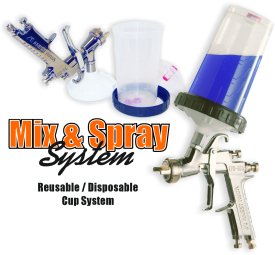 Featuring a revolutionary reusable/disposable gravity cup with no bag or liner required
ANEST IWATA's Mix & Spray System for painting and mixing featuring a revolutionary disposable / re-usable gravity cup. Mix & Spray System allows the user to save time in preparing paint, cleaning time and cleaning materials. The disposable / re-usable cup is graduated for easy, accurate mixing. Any left over paint can be stored in the cup and sealed with the supplied caps. The unique air valve with anti-dripping system and no BAG or inner liner means there is no change in the paint delivery rate for an even flow and great finish. Mix & Spray System is available for use with all 400, 300 and Air Gunsa series spray guns.
Perfect for waterborne conversion. For more information CLICK HERE .