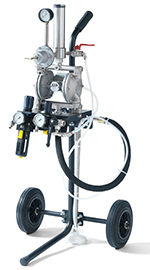 DPS90N Stainless Steel Diaphragm Pump
The DPS90N stainless steel diaphragm pump unit is designed for production application environments. Featuring stainless steel fluid passages for a wide range of applications (Aluminum version available). This pump unit is available in four different configurations:
• Stand Mount
• Pail Mount
• Cart Mount
• Wall Mount
** DPS903N cart mount shown in photo **
** Spray guns and air / fluid hoses are sold separately **
** DPS902N (Pail Mount) contact for availability **
The DPS90N delivers constant fluid output. Diaphragm movement is minimal, reducing material supply pulsation and minimizing pump wear.
This pump unit may be used with air spray guns or HVLP spray guns in situations where constant material supply is required.
Stainless Steel Fluid Passages:
The fluid passages of this pump and fluid regulator are made of stainless steel and are ideal for applications requiring waterborne or solvent borne materials.
Easy Handling and Installation:
Weighing under 40 lbs., the DPS90N is easily installed. Connect the air supply, spray gun and hoses and it is ready to use.
Easy Maintenance:
Fewer number of moving parts and simple construction assures easy maintenance.
Suitable applications for medium to high volume manufacturing environment:
Woodwork and Furniture
Metal products and Machinery
Commercial and Marine
Plastic products
RECOMMENDED
PRODUCTS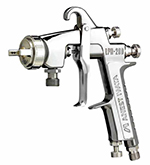 Anest Iwata Products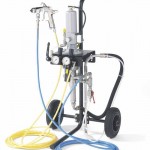 MSU11 Compact Multi-spray Unit (13:1)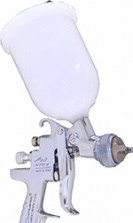 AZ3HTE2