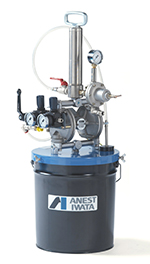 DPS90D Aluminum Diaphragm Pump
The DPS90D aluminum diaphragm pump is designed for applying paint, with no pulsation. The rod movement between diaphragms is designed to be minimal, so there is no pulsation for painting because there is less movement, wear is also reduced. The design is ideal for production application environments.

This system is available in four different setups:
• Wall Mount
• Cart Mount
• Pail Mount
• Stand Mount
**DPS902D pail mount shown in photo**
**Spray guns and air / fluid hoses are sold separately**
The pump delivers fluid consistently for coating with one or two spray guns. This system may be used with air spray guns or HVLP spray guns where constant material supply is required.
Diaphragm movement is minimal, therefore lowering the pulsation of material supply and reducing wear on pump components.
Easy Handling and Installation: 
Weighing only 40 lbs., the unit is easily picked up with one hand. Connect air supply, spray gun and hose and it is ready to use.
Easy Color Change and Cleaning: 
Suction system can easily be moved between supply drums for material changes or a solvent for cleaning.
Easy Confirmation of Remaining Paint and Replenishing:
You can confirm remaining paint at a glance and refill without system interruption.
Easy Maintenance:
Limited number of parts and simple construction assures easy maintenance.
Applications:
Industrial: Metal products & machinery – steel furniture, construction, metal structures, etc.
Furniture: Cabinets, bookcases, tables, etc.
Refinish: trucks, buses, trains, etc.
RECOMMENDED
PRODUCTS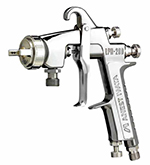 Anest Iwata Products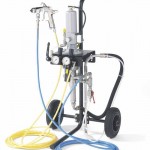 MSU11 Compact Multi-spray Unit (13:1)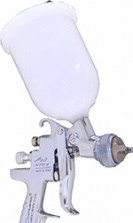 AZ3HTE2