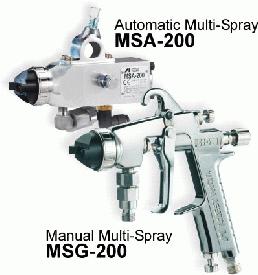 Air-Assisted Airless Multi-spray Guns
The ANEST IWATA MSG200 Air-Assisted Multi-Spray Gun combines durable construction and premium finish quality with light weight and superior ergonomics. The MSG200 shares many features and benefits with other full size ANEST IWATA spray guns. They also share some common replacement parts. Users already familiar with ANEST IWATA Spray Equipment will have no trouble switching to our Air-Assisted guns.
The ANEST IWATA MSA200 Air-Assisted Multi-Spray Gun MSA200 Automatic Air-Assisted Multi-Spray Gun was designed from the ground up around the higher pressures associated with Air-Assisted spraying. Many other guns are a compromise between air spray design and air-assisted design. The result is a highly durable spray gun that will give your automatic processes repeatable and quality results.
On both guns the needle tip, nozzle and nozzle tip are constructed of tungsten carbide for long life. The nozzle tips are available in many orifice sizes and fan pattern widths. The MSG200 and the MSA200 both feature a truly adjustable fan pattern via the pattern adjustment knob. The air caps are treated with a buildup resistant coating that reduces down time and maintenance. A built in fluid filter also extends the life of the wetted parts by reducing the particulate matter passing through the guns.
ANEST IWATA Air-Assisted Airless Multi-Spray pump units are available in 13:1 or 17:1 ratios.

Feel free to contact us with any questions that you might have.