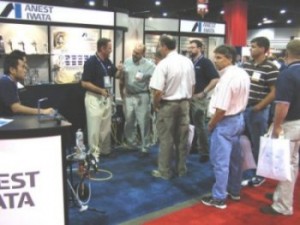 IWF 2006 International Woodworking machinery and Furniture Supply Fair
IWF 2006 in Atlanta was a huge success for ANEST IWATA USA, Inc. We showcased many new products and unique technologies. The LPH100/200-LVP system for the application of NGR stains was very well received as a unique way to avoid the mottling commonly associated with these coatings. Our MSU series Air-Assisted Airless pumps and MSG/MSA Air-Assisted Airless guns gained a lot of attention from visitors to our booth. We also introduced our new Manifold Automatic Spray Guns in Air Spray, HVLP and Air Assisted Airless versions.
Feel free to contact us with any question you may have.
Thanks to all who utilize and support ANEST IWATA products.
ANEST IWATA
technically, A BETTER PRODUCT
ANEST IWATA USA, Inc.