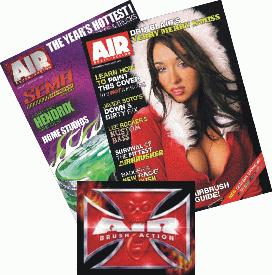 Make your artwork last forever
ANEST IWATA USA is proud to be participating as a sponsor of this years Airbrush Action Getaway's.
Kustom painting Seminars are for all Skill Levels-novice to professionals. Whether you're a complete novice or a seasoned professional, spend five exciting, information-packed days learning from top professionals in one of the best airbrush seminars you'll ever attend.
The gun of choice by the industries top kustom painters is Anest Iwata. Come and be a part of the traditional comradery and bonding that develops between students and staff at every Workshop.
To view more about the Airbrush Action Getaways check out there website and select workshops.
Once again, thanks to all who utilize and support ANEST IWATA products.
ANEST IWATA
technically, A BETTER PRODUCT
ANEST IWATA USA, Inc.