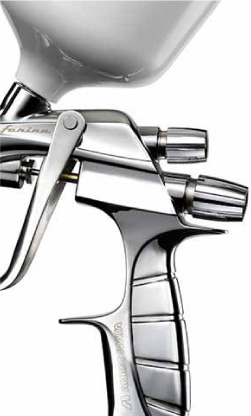 PRECISE
SETTINGS
SUPERNOVA is equipped with height precision adjustment controls for setting air, fluid and fan pattern. Moreover, the carefully designed grip gives the professional painter an easy feel, even when wearing latex gloves.
BASE COAT AND CLEAR COAT OPTIMIZED SPRAY DESIGN
Ideal for waterborne base coats and HS clear paints. WS400 has two specially designed nozzle and needle sets, to give you optimal control during base and clear applications. This, combined with the flat and thin fan patterns, gives the professional painter the control and performance required in a fast throughput environment.